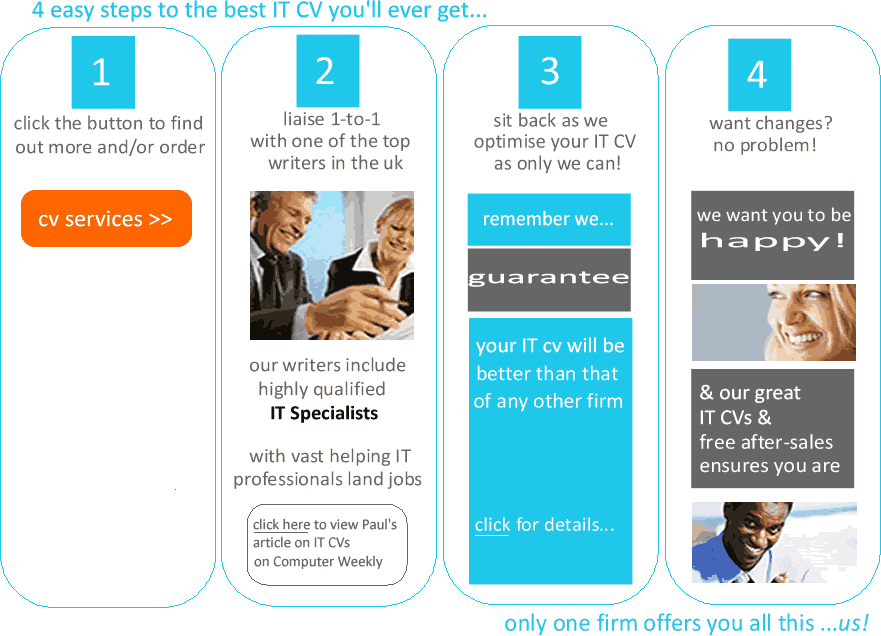 ---
What We Say
Technically speaking – if you want to climb the IT career ladder then we can help you – and like no one else!
IT CVs and job applications in the information technology sector
We are vastly experienced when it comes to writing IT CVs, and over the years we have helped a wide variety of IT contractors and IT professionals and consultants including specialists in database administration, software engineering, development, testing, support, technical sales, training, project management, programme management, business analysis and much more.
Many technical people struggle when it comes to selling themselves on paper. However, our small team of specialists not only excel at this, but some of our consultants also have an IT background, including IT qualifications, and we not only understand technical details, but significantly we also have proven track record when it comes to selling your skills to discerning IT employers.
The IT job sector is fierce, but we can help give you the edge of your competitors.
Please click for our CV services page, or click for a free CV review.
Share and Enjoy