What People Say About Us
You've shown me a new approach to CV writing and have achieved something that surpassed my high expectations – certainly delivering value for money.
C Bolton, Manager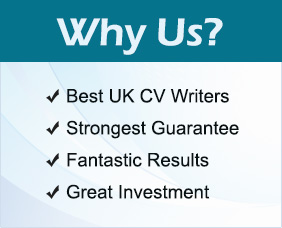 ---
Our Top-Rated Manager CV Service
The competition at managerial level
The better the job, the stiffer the competition. This is true at every level of the career ladder, but is particularly noticeable at managerial level. Firstly, at managerial there is a shift in the 'DIY versus professional CV' ratio, and you can expect to be competing against more professionally written CVs than you did further down the career ladder. Secondly, the calibre of candidate is also higher, and it is inevitable that you'll be vying for good managerial jobs against numerous (or indeed many) credible candidates.
It's a whole different ball game from lower level jobs, and if you think you will walk into a good managerial job without a CV that sets you apart from the other candidates then think again.
Getting ahead of the game
Some managers apply with DIY CVs (some but not many), some use budget CV services, and some invest in a better-quality CV. It's entirely up to you which option you choose, but just be aware that any professional CV company worth its salt should be able to improve any DIY CV. It's also worth bearing in mind that quality varies between CV firms, and while most do a reasonable job, some are far better than others and produce far superior CVs.
Gaining a job-winning advantage
Of course, if you want the best results then you (rather than one of your competitors) need to apply with the very best CV. This is precisely the advantage we have been giving managers for years. We would be happy to give you this pivotal advantage too.
Manager CV Service FAQs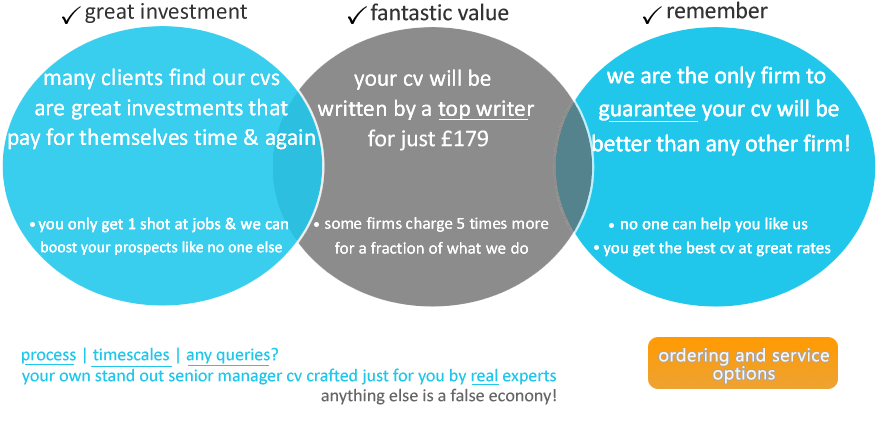 Who is this service for?

This service is for managers, and candidates targeting managerial level jobs in all sectors.
If you are a senior manager then the best service for you would be our senior manager CV service.

How much experience do you have writing manager level CVs?

We have vast experience!
Indeed, the vast majority of our orders are managerial level and above.

What sectors do you cater for?

As mentioned, we are vastly experienced in this area, and over the years we have helped a great many managers across all kinds of job types, industries and sectors including IT, civil engineering, hospitality, administration, finance, education and many others.

We also help various managerial level professionals within the same sector. Taking the IT sector as an example, we have years of experience helping project managers, consultants, contractors, business analysts, senior engineers, network managers etc.

Is there such a thing as a typical manager CV?

Some people think there is, but that is just a myth.
The reality is that managers, even within the same job type, apply for jobs with CVs that come in all sorts of shapes, forms and formats.

Of course, some of the CVs are far more effective at landing jobs than others. If anything, you shouldn't actually want a 'typical' manager CV. On the contrary, if you want the best results you should really want a stand out manager CV!

Can you help my CV stand out?

Yes – we do this on a daily basis for managerial level clients.

How do you do this?

Well, firstly it is impossible to make your CV stand out by using the same standard CV writing techniques as employed by many places elsewhere. If you do that then almost inevitably you will end up with something quite standard. Method is therefore important, and our specially developed methods are different, but are tried and tested to help your CV stand out on several fronts.

More details regarding our methods are available by clicking here, but in a nutshell we work along the same lines as sales and marketing principles with the aim of saying more, and more proactively, but in fewer words. It's a lot easier said than done, and it does take extensive experience and specialist skills, however, the net result is a CV that is more enticing to read which gets your all-important sales message across more effectively and in a higher impact, more concentrated manner.

What else makes a difference?

One hugely important factor that is often dramatically underestimated is the talent of the writer and the quality of the writing.

There is a fairly common misconception that just because curriculum vitae writing companies offer the same services the 'services' in question are the same.

However, nothing could be further from the truth!
Moreover, you can't compare companies on a 'like-for-like' basis, because not all CV companies are the same. It's a bit like tarring all car dealerships with the same brush when most are selling cheap runarounds whilst others are offering top of the range Rolls-Royces. Yes, a car is still a car, but not all cars are the same, and not all CV products are the same!

For our part, we do things differently – our philosophy is different, our methods are different, our writers are different, and even write differently. Consequently, when clients come to us they can expect something above and beyond that of products supplied elsewhere.

Is it harder to land managerial jobs?

Yes, amongst other things managerial level employers are more demanding, and the competition is higher than is the case further down the career ladder. As a general rule, the higher you wish to climb the career ladder the better the competition is, and more you need to stand out from the crowd.

Do you get results for managers?

Yes! We have been helping your competitors for many years now, and if you would like our assistance then we would be happy to help you as well.

Can you help with job interviews?

Yes, we have a job interview preparation service which clients find very useful.

What else can you help me with?

Details of optional extras are given on the next page. Amongst other things, increasingly senior level professionals are finding our LinkedIn profile service very useful. At the same time, it is entirely up to you, and these additional services are all optional.

I have a question that isn't answered in these FAQs. What do I do?

We are happy to answer any questions, queries or concerns that you may have. Moreover, you can get in touch by any of the methods listed on our contact page.

How do I order?

You can order quickly and securely online, starting by clicking on the button below. You are also welcome to order by telephone, although it is usually quicker and easier to just order directly online.