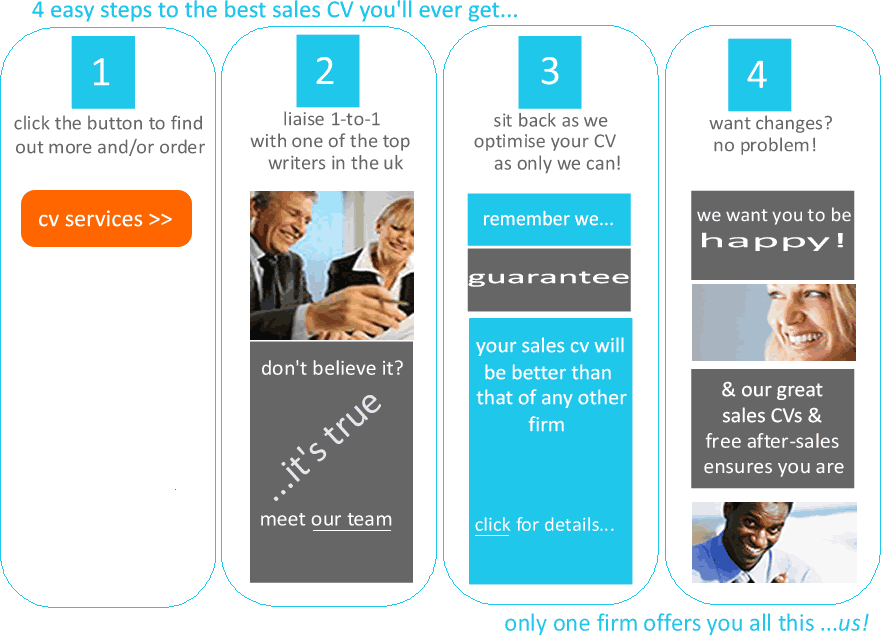 What We Say
We can sell your skills like no other CV company!
Our unique professional sales CV services
Sales professionals know more than any other the value of selling yourself to the optimum on your curriculum vitae.
Significantly, we do this better than any other professional CV writing service. Moreover, and quite uniquely, we even go as far as to guarantee it!
How can we be so sure?
Firstly, we are confident we have the best writers in the business. This immediately gives our clients a distinct advantage in the job market over competitors with DIY CVs and other professional CVs.
Secondly, (and importantly for sales professionals), we do not write to typical dated/bog standard CV writing methodology that is used by other companies. On the contrary, our methods are newer, more radical, and ultimately more effective. Significantly, these are based on real sales and marketing principles. (Please click for more details about our special writing methods).
What sales professionals do we help?
We help sales professionals across the board from salesmen and sales assistants right up to sales managers, area managers, regional managers, account managers, executives and sales directors.
Over the years we have helped many of your competitors win an important advantage when it comes to applying for well-paid better jobs – we can help you too!
Share and Enjoy