What People Say About Us
I got an interview after just one day and got the job!
O. Olaniyi, Mid Career Client, Essex
Helping office managers with their CV
Who are you up against?
Good office management jobs are highly sought after, and you can expect to be up against other highly credible and experienced office managers. Not only that, but frequently you can also expect to be up against good candidates trying to move up the career ladder internally.
In both scenarios, there is no easy route to good office management jobs. You need to show the employer that you are the right person for the job – and you need to do it better than your competitors.
Getting things right
Office managers know the importance of getting things right, and making sure that everything is as it should be – especially since the alternative is inefficient administration and a badly run office or department.
If you are looking to move into a better office management job then you need to think along the same lines when it comes to writing your CV. After all, if you can't get your own CV right then as far as potential employers are concerned, you are unlikely to be able to manage an office either -or at least not as well as your competitors.

How can we help you?
First things first, we make sure that your CV not only looks the part, and gets you noticed, but
beyond that we also make sure that you are sending out the right messages to potential employers, not the wrong ones.
This in itself is not usually enough to help you stand out head and shoulders above the crowd – because as mentioned the sector is competitive- all the above will achieve is to help employers identify you as 'wheat' rather than 'chaff.'
However, this in itself is an important first step in the right direction.Now you have the employer's attention, the next main step is letting him/her know that you can not only do the job, but you can do it better than your competitors. Not only this, but you can also give the employer added benefits that your competitors can't.
It all sounds somewhat unfeasible, however, the very best CV writers can give you this advantage.
Moreover, it is not an advantage to be sniffed at, because it can be (and frequently is) a pivotal factor in giving you the job, rather than someone else.
Make no mistake, a top quality CV can, and frequently does, make a huge difference to your job prospects.
Significantly, no one can write high impact, powerful office manager CVs quite like us.

Indeed, we actually guarantee it!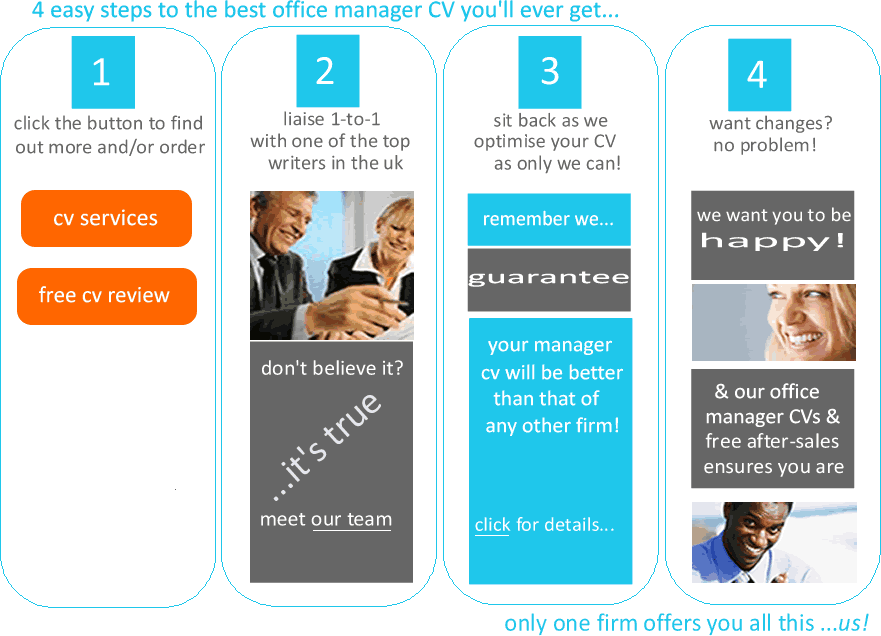 Share and Enjoy