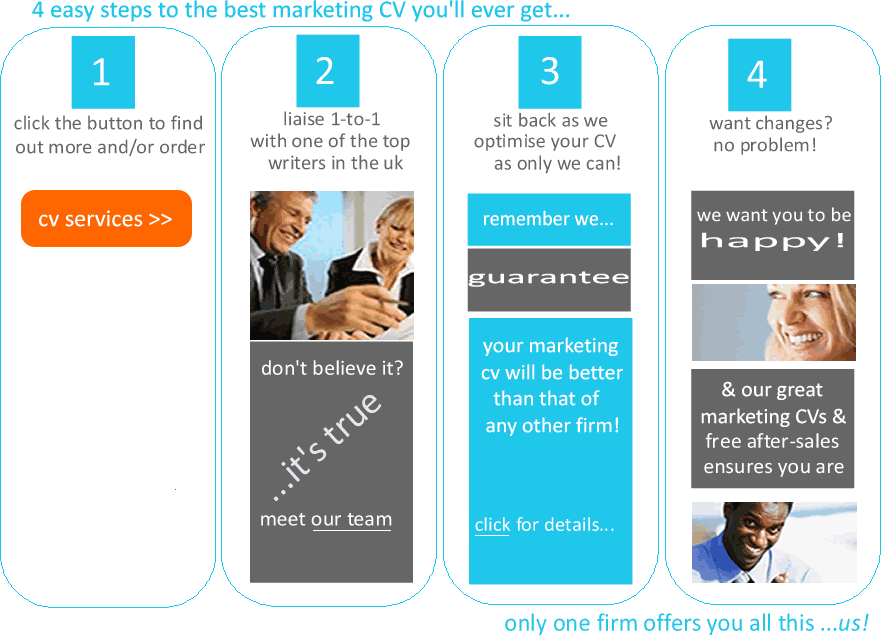 What We Say
You may be great at marketing products and services, but no one can market you on your CV quite like us!
Our very special professional Marketing CV services
Marketing professionals know more than any other the value of a top quality, high-impact stand-out CV.
Your CV is a sales and marketing document after all!
However, knowing this is one thing, but creating it is a completely different kettle of fish, and if you are having difficulty creating a CV that shines and sells your skills to the maximum then you are in the same boat as a lot of people. Indeed, you may find some comfort from hearing that a great many marketing professionals struggle to sell themselves effectively on paper, which is why many (literally many thousands worldwide) seek help from professional CV service companies to give them the advantage over their competitors – and make no mistake, marketing is an extremely competitive sector, and marketing employers are more discerning than most.
Over the years we have helped a great many of your competitors into better jobs, and right across the board from graduates and marketing assistants right through to marketing managers (including online managers), brand/advertising managers, senior managers, marketing executives and marketing directors.
Significantly, and uniquely, if you would like our help then your CV will be written to sales and marketing principles rather than old-fashioned, dated and ineffective CV writing methodology that is employed by other companies. Please click here for more details on our special CV writing methods.
We can certainly help you – and like no other company.
We even guarantee it!
Please click to find out more about our very ,special team
Click here if you would like a free CV review
Or click here for more information about our unique CV writing services
Share and Enjoy