What You Say
The service is well worth the money!
John Emerson
Helping you to maximise the potential of your LinkedIn presence
LinkedIn services
Used correctly, LinkedIn can be a fantastic job marketing tool, showcasing you to literally many thousands of recruiters and employers (both in the UK and abroad) who are actively looking to recruit new staff for good (and frequently well-paid) jobs.
Wasting the opportunity
Most people don't make the most of the full potential that LinkedIn has to offer. Indeed, the vast majority of jobseekers just add a run-of-the-mill profile that is neither well-written nor properly optimised – and then they wonder why it doesn't arouse much interest from employers!
How we can help you
Essentially we can help you in two main ways;
Firstly, we can optimise your profile so that it attracts more hits from the right kind of employers/recruiters – namely those that are looking for candidates just like you – at your level, in your job/career sector, and with your kind of experience/expertise.
The above is half the battle, and most people don't even do that properly. However, if you want to make the most of LinkedIn, then you do need a properly optimised profile – and we give clients just that.
However, an optimised profile alone won't help you wow employers. It will just help more of them find you. Once on your page, you also need to arouse the employers' interest, and entice them to contact you – rather than your competitors.
This is far easier said than done. However, we have years of experience writing high impact,powerful LinkedIn profiles that sell your skills to the maximum and dramatically improving your odds of not only attracting employers to your page, but also of contacting you have a view to an interview/employment.
The process
Our process is simple, straightforward and tried and tested. It involves you liaising one-to-one with one of the top career sector writers in the UK. Please click here for more details about our very special team.
Our writers are friendly, very experienced and can guide you through the process. Once you provide
details of your experience/circumstances and goals, and once we are happy we have everything we need, you can sit back as your consultant refines and optimises your LinkedIn profile for you. If you don't have a LinkedIn profile at the moment that is not a problem, as we can create it completely from scratch for you.
Once we have finished we will send your LinkedIn profile to you as MS Word document.
We want you to be delighted with your LinkedIn profile, and the vast majority of clients are delighted with the very first draft. Requests for changes are therefore extremely rare, however if you want any changes that is not a problem, Just let your consultant know and he/she can amend it as part of our free after sales service.
Prices and ordering
The price of your top quality LinkedIn profile is extremely reasonable. Indeed, many clients consider it a great career investment.
Prices start from just £59.
More details on pricing and ordering can be found here.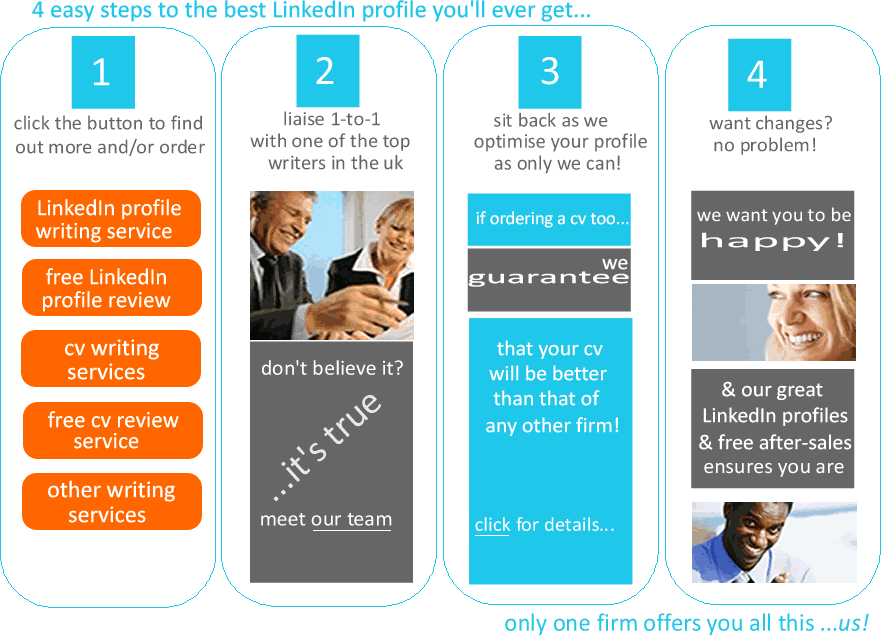 Share and Enjoy