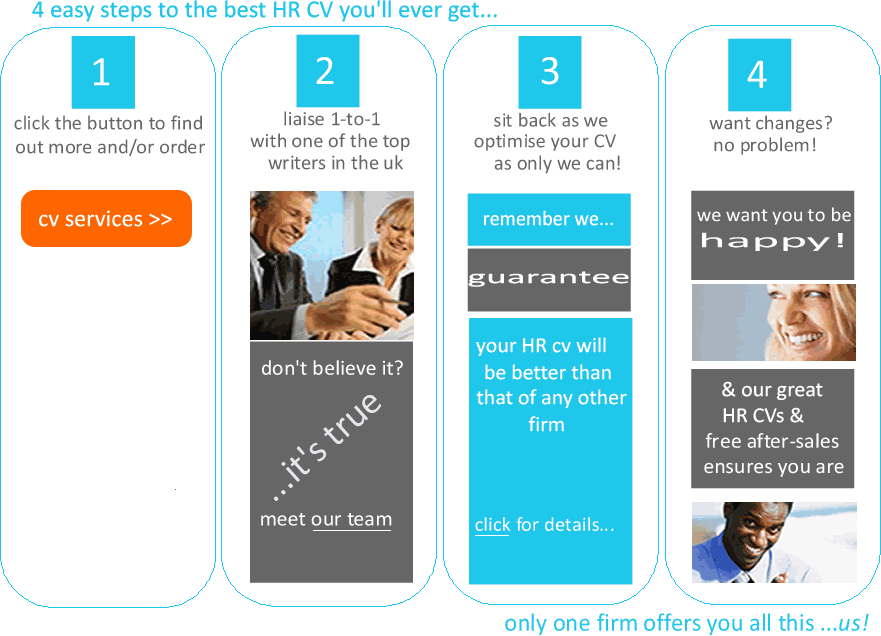 What We Say
The most valuable human resource when it comes to CVs is our very special select team of talented writers!
Our unique, top quality CV service for HR professionals
HR professionals know better than most the value of a top quality CV. Moreover, most HR professionals are also only too aware of the quality of the competition for jobs, and the need for their CV to eclipse that of their competitors.
Of course, writing a truly standout CV that can get you noticed over and above the other candidates is far easier said than done. This is one reason why many HR professionals engage the services of CV writing companies. Indeed, it is more common for HR professionals to use CV writing services than is the case in some other sectors – effectively HR officers, managers and executives know more than most that a better presented CV which sells their skills more powerfully, and to the optimum can help them shine over and above that of the competition.
This is exactly the advantage that we give to HR clients from all over world on a regular basis.
Indeed, we have vast experience helping human resources/HR consultants and professionals at all levels, from HR assistants right up to HR managers, senior managers, executives and directors.
We also help human resource clients across a variety of sectors including business/commercial, non-profit/charity and public sectors including very senior governmental HR leaders.
While the majority of our clients are based in the UK we also help people from all around the world.
We've been helping your competitors for years – and like no one else – we can help you too!
Please click for more details of our very special CV writing service.
Other resources:
Please click for more details regarding HR CV advice
Share and Enjoy