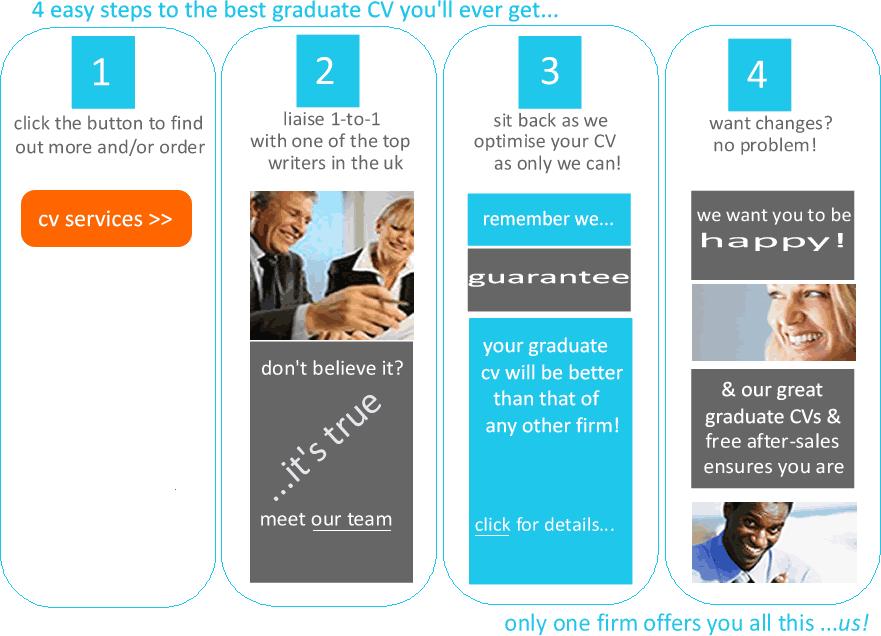 What We Say
When it comes to helping students our very special top quality UK writers are first-class!
A unique, stand out CV to help you into good graduate jobs!
A lot of graduates are under the impression that their new degree will guarantee them an exciting new well paid job. While it is certainly true to say that a good degree will help your job prospects, it doesn't necessarily mean that you will walk straight from university into the job of your dreams. In fact, hundreds of thousands of new graduates every year discover to their dismay that the job market just doesn't really work like that.
Why not?
Well essentially, it boils down to the fact that the job market is extremely competitive, and competition for good graduate jobs is fierce. Indeed, some companies receive thousands of applications for the comparative handful of graduate jobs that they have on offer.
Yes, you may have a degree – but so do all of your competitors!
… and you need to bear this in mind, otherwise you may well miss the boat when it comes to landing the best graduate jobs.
How can you improve your odds?
Your CV is the main interface between you and the graduate employer. It therefore stands to reason that the better your CV, the better your graduate job prospects.
You may well be aware that many graduates (hundreds of thousands) in the UK and abroad apply for competitive graduate jobs with relatively basic DIY CVs. This is entirely their prerogative, and it is actually to your advantage that they do this. The reason this is to your advantage is because if you can present a slicker, more professional CV to graduate employers then immediately this can help you stand out from the crowd and get you noticed. Most (albeit not all) professional CV companies, can help you gain this initial advantage.
How can you improve your odds yet further?
Again, it really boils down to what you are prepared to do to get ahead of the competition. As mentioned, most professional CV services can give you some advantage over some of your competitors. However, the fact remains that you will not be the only person trying to gain an advantage by hiring a professional CV writer. Indeed, thousands of students in the UK do just that each and every year.
However, here's the thing…
Just as in any sector, there are good, and there are bad, and there are exceptionally good, and woefully bad.
If you want the best possible chance of landing your ideal job, then it stands to reason that you need the best CV company to help you achieve this.
We are confident that we are that company. In fact, we are so confident that quite uniquely we go as far as even to guarantee it.
Yes, there is a cost, but you do get what you pay for, and it is a false economy to try to compete against very strong candidates with a substandard CV. In fact, it is even a false economy to try to compete with a good, or even very good CV. If you want the best results, you need the very best CV. That much is fact.
Not only do we guarantee that you get the best possible CV, but to help new graduates out even further we also deliberately keep prices down. Moreover, with our top quality graduate CV service, you get to liaise one-to-one with one of the very top CV writers in the UK at a price that is lower than their normal rate. (Effectively, to help you out we discount CV rates especially for graduates).
Over the years we have helped a great many students into well-paid graduate jobs with goodprospects and across all sectors including accounting, finance, banking, business, consulting, science, engineering, HR, IT, marketing, sales, recruitment, logistics, medical, media, communications, PR, journalism, management, science, civil service, charity and much more.
If you would like our assistance to help you land a quality graduate job then we would be happy to help you too.
Further Reading:
Please click here to read more about CV companies in Paul's blog.
Services:
Please click for a free CV appraisal from a vastly experienced career a specialist.
or click for more details about our graduate CV service and pricing
Share and Enjoy