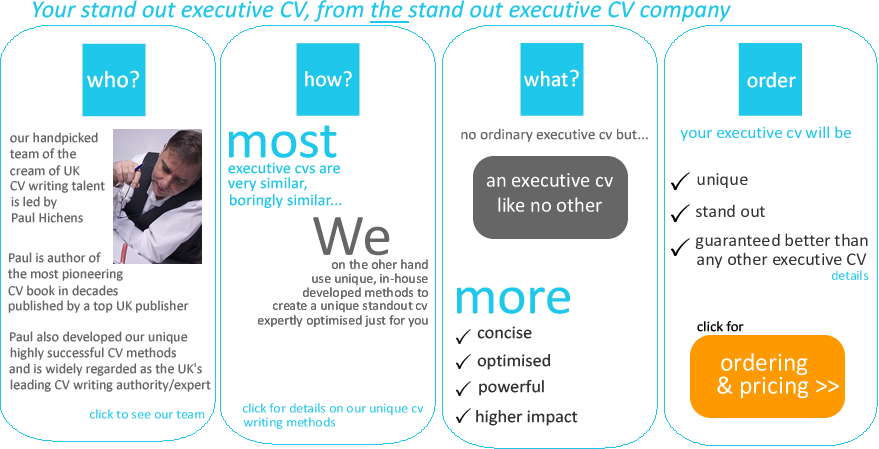 What People Say About Us
You have taken CV craftsmanship to a new level. With service excellence and editorial precision, your team know their business inside out.
Vishal Shah, Director, London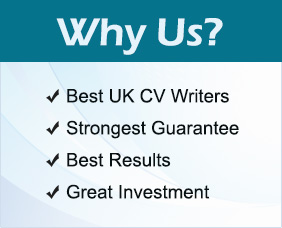 Our Top-Rated Executive CV Service
The Standard
Good, well-paid executive jobs are much sought after, and the standard of candidates is highly competitive. Notably, at executive/director level it is pretty much inevitable that you will be competing against other professionally written CVs – and not budget ones at that!
Sound daunting?
Well it is. And even if you know you are the best person for the job, if your CV doesn't present your case powerfully enough then you can be sure that one of your competitors' will.
Getting Your Job-Winning Edge
You only get one chance to impress employers, and no one makes executive CVs shine quite like us.
We have been giving your competitors a job-winning edge for years, not only over DIY CVs, but over top-end professionally written CVs.
Currently the price for our executive CV service is just £, although it is likely that will go back up. We do believe it is exceptional value for money, and while we will honour this price if you order today please just be aware that will will revert back to the higher price at some point.
Executive CV FAQs

What experience do you have writing for executives?

We have vast experience writing for executive level clients both in the UK and all around the world. This includes executives and directors of both SME companies as well as large global organisations.

Who do you help?

We help executives, directors, non-executive directors, Managing Directors (MDs), Chief Executive Officers (CEOs), Chief Operating Officers (COOs), Chief Financial Officers (CFOs), Chief Technology Officers (CTOs), Chief Digital Officers (CDOs), Chief Information Officers (CIOs) and other senior level professionals across all sectors.

On occasion we have also helped whole boards of directors, including career sector organisation directors.

Which of your consultants have experience writing for executives?

All of our consultants do!

What's the difference between an executive CV and a typical one?

In essence, the purpose is the same – and ultimately the aim is to help the candidate land his/her target job. The main difference relates to the level of competition and the necessity to sell your skills to the absolute maximum – because at executive level if you are not doing that, then you can be pretty sure that some of your high-calibre competitors will be!

Top quality executive CVs therefore tend to be very achievements focused, and as high impact as possible. Another difference is that several years ago executive CVs tended to be longer, whereas now there is an increasing trend for concise (especially one page) CVs. Indeed, these days many executive clients are specifically asking us to create a one-page curriculum vitae.

There is a bit of a potential conflict here in that board level candidates usually have more experience and more achievements than people further down the career ladder. Consequently, refining this additional experience and achievements down to a shorter length is far easier said than done, and especially if excellent levels of clarity and legibility are to be achieved and maintained.

This is one area that most senior level clients struggle to master themselves. This is not surprising as writing powerfully yet succinctly is quite an elusive, and very specialist skill. If it wasn't we wouldn't be in such constant demand from senior level clients from all around the world.

Can you help me?

Yes!
Each case is different, and we do work on an individual, case to case basis. However, we have been doing this a long time, and in all these years have never once received a CV from a senior professional that could not be improved on numerous levels. This includes CVs that had previously been written by other professional writing companies.

We can help you – and like no one else!

I am very busy, is this a problem?

Not in the slightest!
We are used to helping busy professionals, and we are fully aware of the fact that when working with senior level professionals, sometimes things may take a bit longer – but good things come to those that wait. Moreover, we do try to help busy professionals by using our experience to pre-empt things, and we can work using our own initiative to minimise the need for your input, without being a burden on your time.

We are not one of those companies who pads out consultations and takes one hour to extract information that can be ascertained by more effective means, more reliably, in a fraction of the time. We don't believe in gimmicks, and we don't believe in wasting your time. Moreover, we find our executive clients very much appreciate this.

How much is your professional executive CV service?

At the time of writing the price is £, although this may well go up. We do believe it is exceptional value for money, and a raise in price may inevitable at some point.

Please click the button below to check the price of the service, as well as optional extras.

Regarding optional extras, most senior level clients order a cover letter, and many also order a LinkedIn profile writing service – although that is entirely up to you.

If you would like our help then we do look forward to being of assistance.

The CV Succeed Team