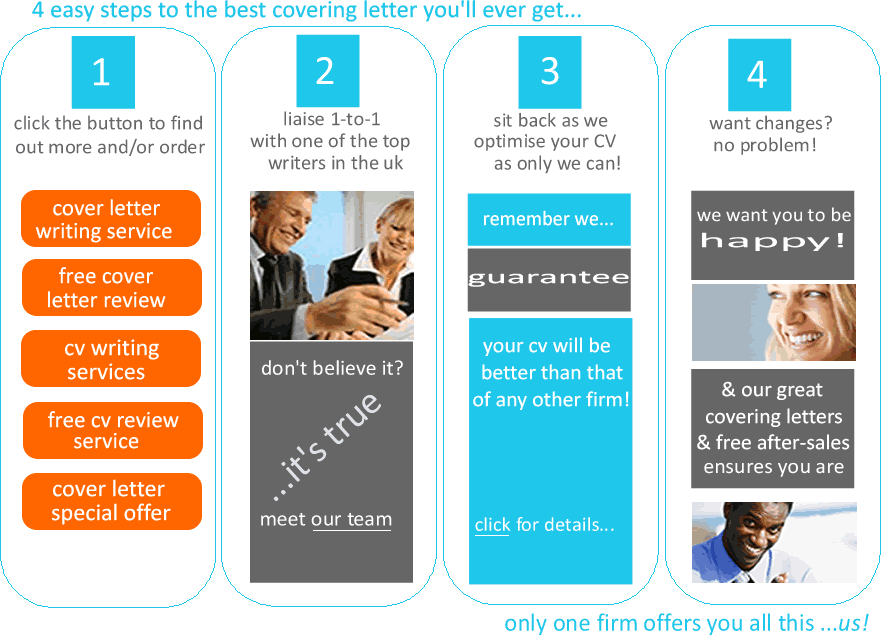 ---
What We Say
If you want top quality CVs and professional cover letters you have come to the right place!
What Our Clients Say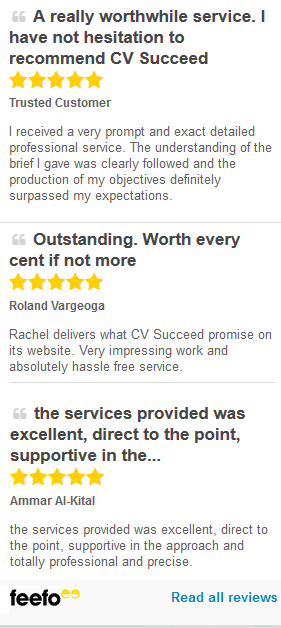 Choose Where You Would Like to Start
Click here for our our professional cover letter writing service.
Click here for prices and details of our renowned professional CV writing services.
Click here for details of our free, no obligation CV review service.
Click here for details of our pioneering CV and cover letter book.
Cover letters
CV Services
Free CV Review
our cv book
about us
No ordinary cover letter

We don't write run-of-the-mill CVs, and your cover letter will be top quality too!

Helping you stand out

Most people understand and are aware of the fact that your CV is the most important document in your possession when it comes to applying for good jobs. What not everyone appreciates, on the other hand, is just how important and influential a top quality cover letter can be too.

A standout cover letter can rouse the employer's interest, and grab his/her attention, so that when they do read your CV, they read it in eager anticipation, rather than reluctantly with a yawn.

Our cover letter service
Our professional cover letter service is geared up to helping give you the best possible chance of landing your ideal job, the only way to do this is to create a slick, flowing professional document that arouses the employer's interest in a clear, pertinent and concise manner.

This is exactly what our top quality cover letter writers can offer you.

We have never received a cover letter that we could not improve, but if you would like a professional second opinion on your cover letter please contact us, and we will be happy to assess your cover letter free of charge.

Alternatively, if you would like the best possible cover letter then we will be happy to write one for you. Not only that, but our prices are exceptionally reasonable – please click here for details.

Further advice on cover letters
Further help and advice on cover letter writing is available here.