What We Say
Writing a top quality CV is by no means academic – but we can help you like no other CV firm!

Our top quality professional academic CV service
Who do we help?
We have vast expertise helping a broad range of academic sector professionals into good academic jobs. Most of our clients are in the UK, although we also regularly help clients internationally and from all corners of the globe. Many clients come to us via word-of-mouth recommendation.
Academic clients include university senior management, directors, professors, lecturers, research professionals, administrators, Ph.D. students and more, and across a broad range of subjects from astrophysics to zoology.
What do you do?
Essentially, everything we do is geared up to helping you succeed with your academic career goals – whatever these may be. Each case is different, and we work on a one-to-one individual basis with clients, listening to your own needs, circumstances and aims and working with you to help you achieve your goals.
As mentioned, each case is different, for example some clients just need help with their CV, whereas
other clients may require additional help such as assistance with a personal statement.
How do we achieve this?
It is no mean feat because good academic jobs are very competitive. At the same time, we have been doing this a long time, use more modern and more effective CV writing methods, and are confident that we have the best academic CV writers in the business. Our track record is second to none, and we are confident we can help you like no other company.

What is the next step?
If you would like to order one of our professional CVs then you can do so directly online by starting here, or you can call us on the number on our contact page.
Similarly if you have any questions or queries whatsoever just call or e-mail us and we will be happy to answer any queries.
If you have a CV and you would like a free, professional second opinion, then we are happy to do this for you, and details of our CV review service are on this page.
If you would like our help then we would be happy to help you.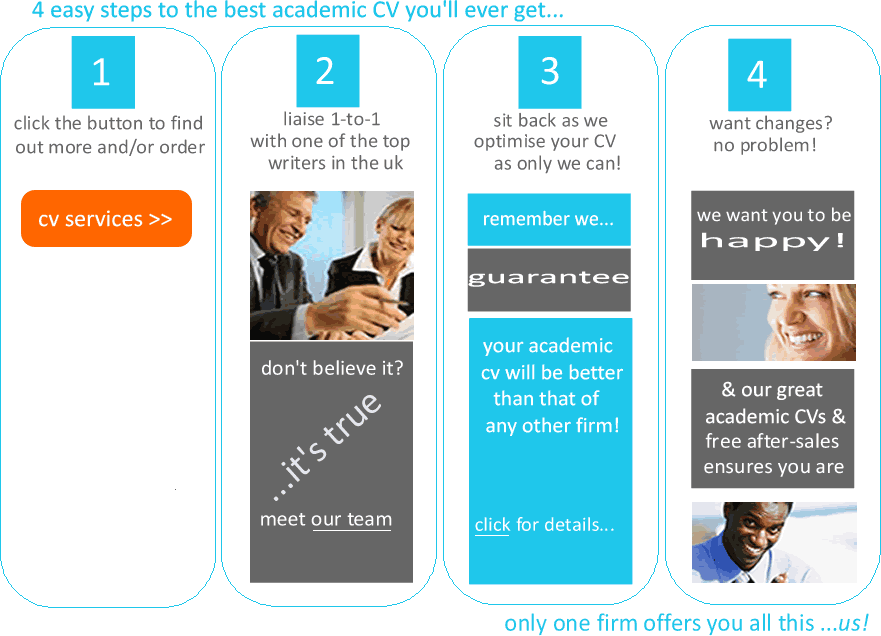 Share and Enjoy