What We Say
Law firms are very discerning – but you are in very safe hands because so are we!
Legal sector CVs and job applications
Jobs in the legal sector are extremely competitive. Law firms/legal employers are very discerning, and extremely particular. Your CV not only needs to shine above your competitors, it also needs to be clear, accurate and meticulously written. Our consultants have vast experience in helping legal sector professionals both in the UK and abroad.
Our consultants also understand what legal firms are looking for, as well as extensive experience telling law firm employers what they want to hear. This doesn't sound so important on the surface, but it is. Indeed, it is extremely important when it comes to applying for jobs, and not just law sector jobs, but all jobs. If you think of the employer like the client, and you are selling yourself to him/her, then it stands to reason that the more you tell him/her what they want to hear the better. This is something that the very best sales and marketing companies do all the time, and similarly it is what the very best curriculum vitae writers do as well.
Common issues and problems with legal CVs
We have been doing this for a very long time, and have seen a great many legal sector CVs over the years. This includes DIY CVs, as well as CV that have been professionally written elsewhere. In both cases we find that there are usually a variety of issues/problems with them, and the CVs we receive can usually be improved on a variety of fronts. Whether you are just starting out as a legal secretary, or are an experienced senior solicitor or legal manager and regardless of whether you have written your CV yourself, or have previously engaged another professional company to do it for you we can address and resolve these issues for you. Typical problems include not optimising the curriculum vitae properly (or even attempting to optimise it!), ignoring or failing to recognise what the law firm is looking for, and underestimating just what you need to do to get ahead of the competition.
Another common misnomer is that some people are under the impression that law firms prefer candidates to include as much information on their CV as possible. Frequently, this just isn't the case. On the contrary, you need to know what to leave out, as well as what to include. It's a bit like giving the employer a choice between drinking a big jug of watered down juice, or a glass of freshly squeezed orange. Yes, it is quite a crude metaphor, but you get the gist. Employers at law firms are very busy people, and don't want to (or have the time to) spend ages sifting through reams of information just to get to the most important parts. The most important parts should be clear and obvious right from the onset.
Most people who apply for legal jobs don't do this, or at least don't do it well enough.
Other requirements
In addition to a top quality CV, law firms also expect well-written cover letters, and in some instances you may also be asked to provide a personal statement. Amongst other things the personal statement tests your communication skills, and gives the employers more insight into what you might potentially bring to the table (including commercial as well as legal acumen).
Many candidates are daunted by the prospect of having to write a personal statement for a law firm. However, if you know what you're doing you can turn it to your advantage, and a well written statement can give you the edge over your competitors.
Again, this is something Rachel has a lot of expertise in.
The next step
You can order your CV here, or if you want to find out more then please contact us, and we will be happy to answer any questions or queries you may have.
There is also more information on our FAQ page, where you will find that many questions have already been answered. Please click here to access our FAQ section. If you would like our help then we would be very happy to help you achieve your goals.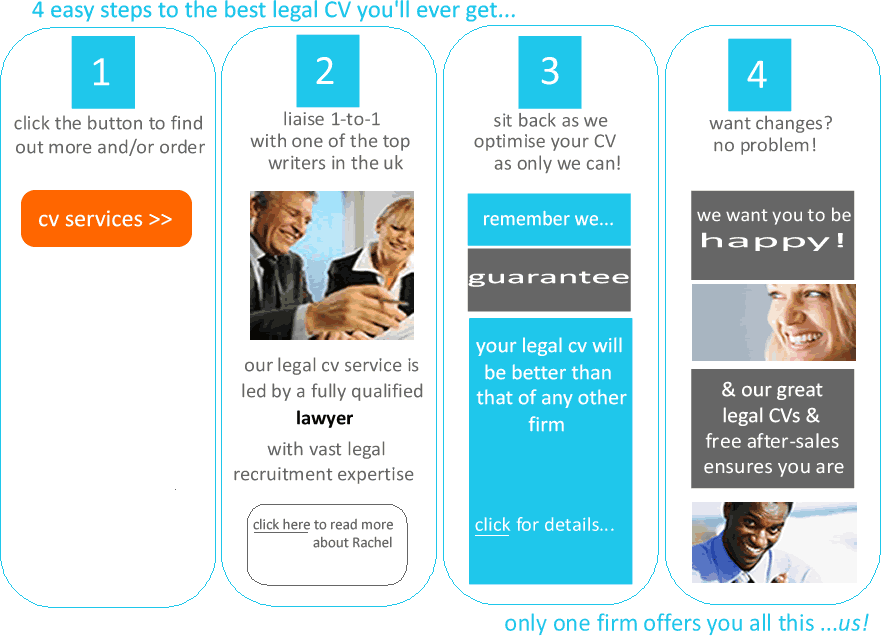 Share and Enjoy