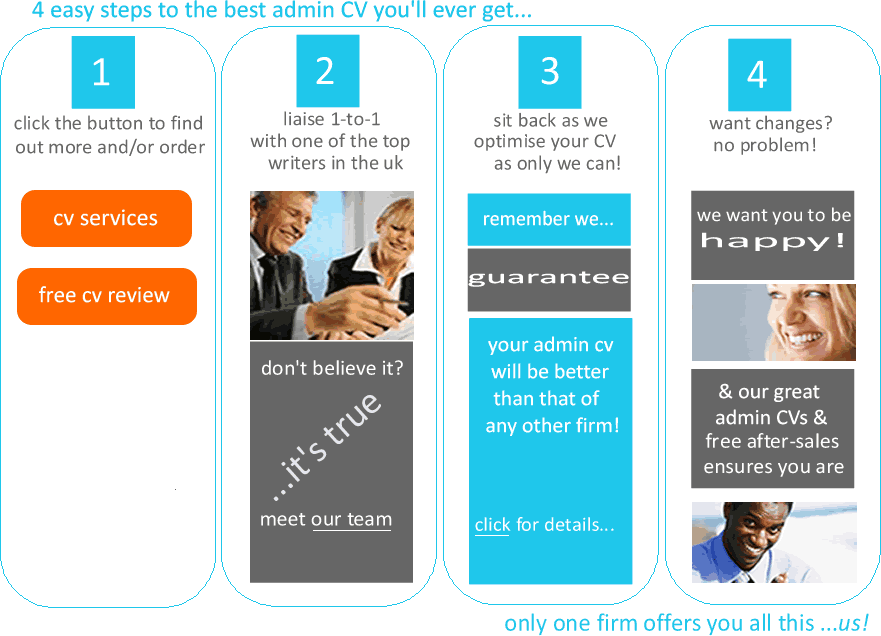 What You Say
The CV looks perfect!
I Ward
Not just any admin CV!
The admin sector
Admin is an extremely popular sector, consequently when you apply for admin jobs you can expect
to face stiff competition both in terms of quality of the other candidates, as well as in terms of number of applicants. Indeed, it is not unusual to have 50, 60, 70 or more applicants for good admin jobs.
With only one job on offer, the odds are not fantastic, and especially if you are using a typical DIY CV.
How can you improve your odds?
The short answer that this is by improving your CV.
But can a better CV make a difference?
It not only can make a difference, but it usually does make a difference – and if you make significant improvements then this can frequently result in a dramatic difference to your job prospects.
So how do you get a better CV?.
Now there is the $64,000 question. There is a lot more to CV writing than meets the eye, far more
than most people realise. Yes you can try writing your own CV, however just be aware that just as in any sector specialists/full-time professionals usually do a better job than laymen, and even a CV written by an average professional CV writer is usually far better than a CV written by a laymen – even if he or she has good writing ability.
How good is the CV you would write for me?.
We have the best writers, and use the best methods, consequently we are confident that the CVs that we write for our clients are the best in the business. Moreover, we even go as far as to put our money where our mouth is and actually guarantee that you will not get a better CV anywhere else, from any other professional CV company, at any price.
Please click here for details.
Can you check out my CV for me before I order?
Yes, if you would like us to have a look at your CV before you order, we will be happy to do this. In addition to answering any questions you may have, we can also tell you up front what can be improved, and give you an indication of just what improvements we can make for you.
Please click here to request your free CV appraisal.
How much does your appraisal service cost?
Nothing!
It is 100% free, and without any commitment.
How much does your professional CV writing service cost?
If you would like our help dramatically improving your CV then you will find our prices extremely reasonable for the significant advantages we can give you in the job market.
Many clients consider our CVs a fantastic investment, and our CVs can (and frequently do) pay for themselves, not just once, but time and again as you move up the career ladder.
Make no mistake, we can help you – and like no other company.
Anything else is a false economy!
Share and Enjoy